Puriton Barrier Pipe For Contaminated Land
Puriton Barrier Pipe For Contaminated Land
Puriton barrier pipe is available in diameters 25 to 63 mm and is manufactured from a black PE80 core, an aluminium barrier layer and a light blue PE80 outer layer with brown stripes.
Puriton service pipes are available in coils and also in straight lengths for the 63 mm pipe. They are quick and easy to join without the need for surface preparation, denso or foil tape, using the range of cutting edge Puriton 2 mechanical fittings.
The barrier pipe system of choice for the safe distribution of drinking water through contaminated land.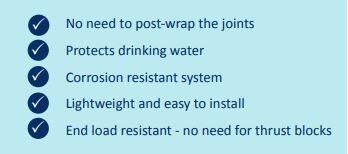 Read More