160mm Underground Drainage Pipe and Fittings
160mm Underground Drainage Pipe and Fittings
Our extensive range of high quality, low-priced 160mm underground drainage pipe and fittings are manufactured in the UK by companies including Brett Martin, Pipelife and Polypipe.
We only supply 160mm / 6" underground drainage pipe and fittings that hold a current EN1401-1 and/or BS4660: 2000 kite-mark, complete with an industry leading 50 year guarantee. Buy with confidence knowing that our genuine products will provide excellent performance and hassle-free installation.
We never compromise on quality. Our prices are typically the cheapest online for genuine certified underground drainage pipe and fittings. Discover a wide range of drainage pipe sizes by exploring our selection here.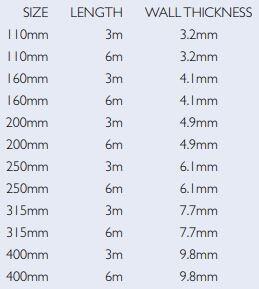 Please do not hesitate to contact our Sales Team if you require any assistance or technical advice.
We take pride in supplying high-quality manhole inspection chambers to meet your needs. Our chambers are designed with durability and functionality in mind, ensuring reliable performance and ease of use for your inspection requirements.
Read More