250mm Underground Drainage Pipe and Fittings
250mm Underground Drainage Pipe and Fittings
Our extensive range of 250mm sewer pipe and fittings are UK manufactured in the UK by Brett Martin, certified & approved, surpassing all necessary regulations for uPVC underground sewer systems.
All our 250mm 10" underground drainage pipe and fittings are BS EN 1401-1 certified, ensuring a completely reliable and high-performing product range. The Brett Martin 250mm sewer pipe range features a captive lip seal within all the socketed pipe and fittings which is secure against dislodgement, making jointing easier and ensuring the joints remain leak free for years to come.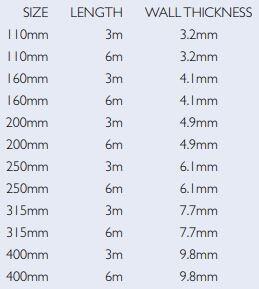 For technical advice or sales enquiries, please do not hesitate to contact our team
In addition to our other offerings, we supply a wide range of inspection chambers and manholes. These products are designed to meet high standards of quality, providing durable and reliable solutions for various applications. Explore our selection and find the perfect inspection chamber or manhole to suit your specific needs.
Read More