315mm Underground Drainage Pipe and Fittings
315mm Underground Drainage Pipe and Fittings
Our extensive range of 315mm sewer pipe and fittings are UK manufactured in the UK by Brett Martin, certified & approved, surpassing all necessary regulations for uPVC underground sewer systems.
All our 315mm underground drainage pipe and fittings are BS EN 1401-1 certified, ensuring a completely reliable and high-performing product range. The Brett Martin 315mm sewer pipe system features a captive lip seal within all ring-seal socket, making jointing easier and ensuring the joints remain secure and leak free.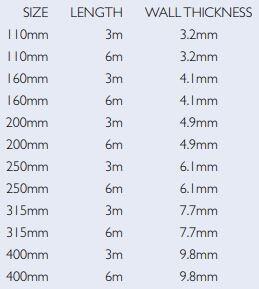 For technical advice or sales enquiries, please do not hesitate to contact our team
As part of our product range, we supply a variety of manholes and chambers. These essential components are designed to meet your requirements and offer reliable solutions. Browse our selection and discover the right manhole or chamber to meet your specific needs.
Read More